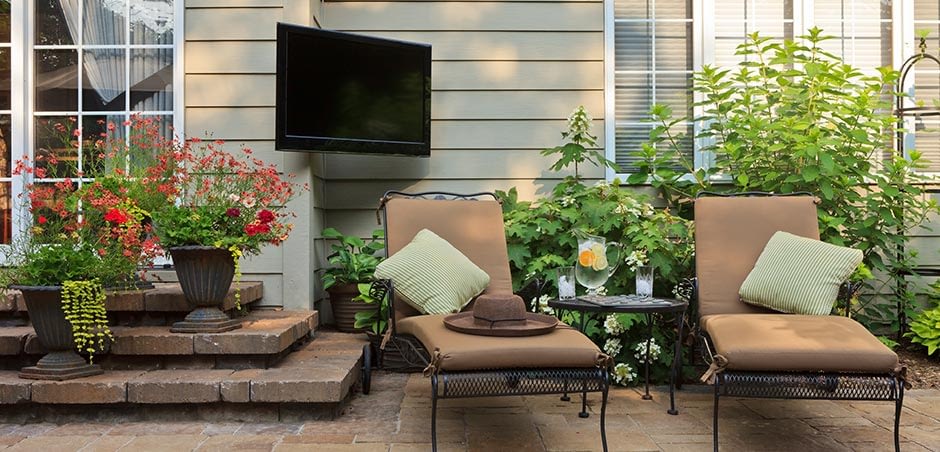 When done right, a backyard patio can become your very own outdoor oasis. It's the perfect space to not only enjoy the weather, but host a range of activities – from grilling and entertaining to relaxing and spending time with the family.
This is especially true in the wake of the COVID-19 pandemic. According to a recent survey, 90% of Americans say outdoor living spaces are more important now than ever before.
If you find yourself spending more time outdoors, it's natural to want to enhance your outdoor space. That could mean installing a fire pit for some late-night s'mores. Or adding outdoor patio heaters to allow for outdoor winter hosting. And if you're a sports fan, you've probably thought about adding a big screen TV to your backyard, too.
For years, outdoor TVs have been a common site at hotels, restaurants and sports bars. But as the prices of televisions continue to go down, more and more homeowners are adding TVs to their own outdoor spaces.
Thinking about installing your own backyard TV? Here are some things you should know.
Do I need an outdoor TV?
There's a reason why companies make outdoor-specific televisions. They're designed and built with outdoor use in mind. That also makes them the safest, most reliable choice for your backyard TV.
When you buy an outdoor TV, it will be guaranteed to function in a wide range of temperatures and weather conditions. That's because outdoor TVs are specially built to withstand the elements – like dust, dirt, moisture and sun exposure.
What's the difference between indoor and outdoor TVs?
Compared to a standard indoor TV, outdoor televisions feature a number of significant design changes that make them ideal for outside viewing.
Brighter display: With standard TVs, it can be hard to see the screen in direct sunlight. To provide a better outside viewing experience, outdoor TVs feature displays that are up to four times brighter than an indoor television.
Reduced glare: To help minimize reflections, outdoors TVs incorporate a special screen material that's designed to reduce glare.
Weatherproof components: Outdoor TVs are built using materials that won't rust, corrode or malfunction in high-moisture environments.
Sealed openings: To help keep moisture out, outdoor TVs feature a sealed, waterproof enclosure that can withstand rain and snow.
Temperature control: When a TV is built to resist the elements, airflow can become a problem. To overcome this issue, outdoor TVs use powered fans for better cooling. Some even incorporate heating elements to protect the TV in extreme cold.
Can I use an indoor TV outside?
For safety reasons, it's not a good idea to use an indoor TV outside. Indoor TVs aren't meant to hold up to harsh outdoor conditions.
If you go this route, there's a high likelihood you'll shorten the lifespan of your TV. Keep in mind that any issues you run into will not be covered by the manufacturer's warranty.
How do I choose an outdoor TV?
When choosing an outdoor TV, there are a number of factors you'll need to consider. They include:
Screen size: Like indoor televisions, outdoor TVs are available in a wide range of sizes – from small 32-inch versions to massive 75-inch screens. Start by measuring your space to determine which size is right for you.
Resolution: When it comes to picture quality, the same factors you'd consider for an indoor television still apply for Outdoor TVs. If an ultra-high-definition screen is a priority, expect to pay more.
Amount of shade: You should order your TV based on how much sun the area receives throughout the day. Manufacturers make outdoor TVs for full-shade, partial-shade and full-sun environments. Full-sun televisions feature a brighter display and more cooling power, but they cost more, too.
Reliability: Depending on the size and options, an outdoor TV can be a significant purchase. So do your homework. Check online ratings and reviews to help you choose a model that's performed reliably for others.
How much does an outdoor TV cost?
As a general rule, an outdoor television will almost always cost more than its indoor counterpart. But prices can vary widely based on the screen size, brightness and quality. Small, full-shade outdoor TVs can be purchased starting around $1,000. But if you want an extra-large, full-sun TV, you could pay upwards of $10,000 or more.
How should I mount an outdoor TV?
Before buying your TV, consider where (and how) you want to install it.
Remember to securely mount any heavy furniture, such as a television, before you use it. According to the Consumer Product Safety Commission, this helps prevent dangerous tip-over accidents that put young children especially at risk. Learn more at AnchorIt.gov.
Wall mount: The simplest way to mount your outdoor TV is using an existing wall. There are a variety of mounting options available, including TV mounts that tilt or have articulating arms, so the television can be viewed at an angle.
Ceiling mount: If you don't have wall space available, a ceiling mount is a great option. Ceiling mounts allow you to hang your outdoor TV from the rafters of a covered porch or patio, freeing up the space below.
Pole mount: This is the most versatile option for mounting your outdoor TV. With a pole mount, you can install your television almost anywhere. Just make sure it's properly secured to the ground.
Are there any safety concerns with outdoor TVs?
Because they're built for outside use, outdoor TVs are generally pretty safe. But like any electronic device, it's important to take precautions – especially when it's wet outside. Make sure your TV is plugged into a GFCI (ground-fault circuit interrupter) outlet, and avoid using extension cords and power strips if possible.
See also: Quick and Easy Guide to Electrical Safety at Home
How should you protect an outdoor TV?
Even though your outdoor TV is designed to withstand the elements, there are still steps you can take to protect it.
Avoid moisture: Consider mounting your television in a location where it's under cover during the rain, and avoid installing it too close to a swimming pool or hot tub where it can get splashed with water.
Add a cover: If the TV is installed in an area where it will be completely exposed, you can add a protective cover when it's not in use.
Bring it inside: If you're unlikely to use your outdoor TV during the cold winter months, storing it indoors may help extend its life.
How do I prevent my outdoor TV from getting stolen?
After spending all that money on an outdoor TV, the last thing you want is for someone to walk off with it. To prevent television theft, add a TV security kit when you're mounting your television. This type of anti-theft device uses a steel cable to secure your television to the wall – deterring any opportunistic burglars that may stroll through your backyard.
For added protection, you may also want to install a motion-sensor flood light or security camera.
Protect What Matters Most
At Erie Insurance, we want you to rest assured knowing your home is well protected. So call your local home insurance agent to get a homeowners insurance policy that's just right for your home. Then, kick back and relax in front of that new backyard TV. Because one of the many benefits of complete home protection is your well-deserved chill time.
Rochester Insurance Quotes