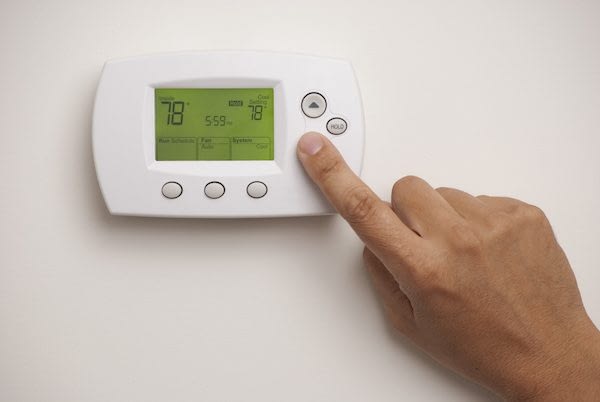 Keeping your home cool in the hot summer months can be as costly as keeping it warm in the wintertime. These energy-saving tips can help you minimize your electricity bill while staying cool and comfortable during the heat of the summer months:
Set your thermostat to 78° or higher. This can lower your cooling bill by approximately 12%.
While you are away from home, set your thermostat higher and then lower it again when you return home.
Use your ceiling fans in place of or in addition to central air conditioning. Using a ceiling fan with your A/C running makes it possible to raise the thermostat setting several degrees higher without sacrificing comfort.
Open your windows and turn the A/C off in the cooler hours. If the temperature drops at night where you live, leave your windows open while you sleep to take advantage of the natural cooling, then shut them when you wake in the morning.
Keep your cooling systems running efficiently with regular maintenance that includes replacing filters.
Don't put lamps, TVs, or other appliances near your A/C thermostat. Heat from these appliances can cause your A/C to run more than it should.
Use caulk or weather stripping to seal cracks and leaks around windows and doors to help keep the hot air out and the cool air in.
Vacuum your cooling system registers regularly and make sure that furniture or household items are not blocking airflow.
Avoid using the oven or the range on hot days. Use an outdoor grill, the microwave, a slow cooker, or a tabletop grill instead.
Choose efficient lighting that runs cool. Approximately 85-90% of the electricity used with incandescent lighting produces heat, not light. LED lights are far cooler, and last longer.
Wash only full loads of laundry or dishes, preferably in the cooler hours.
Turn your water heater temperature down to a lower setting.
Take quick showers instead of baths.
Saving Money with the Right Homeowners Insurance
Just as taking steps to save energy can reduce your cooling bill, finding the right homeowners insurance can also save you money. A number of factors affect the cost of homeowners insurance, including:
Amount of coverage
Location of your home
Neighborhood crime statistics
Fire safeguards
Type of building materials
Age and condition of the home
Claims record
The amount of coverage you choose is a significant factor in the cost of your policy. The coverage you need will depend on the size and value of your dwelling, any other structures in addition to the main dwelling, the value of your personal property, and your exposure to liability. If you live in an area where natural disasters are more likely to occur, homeowners insurance premiums are often higher.
Your home is a major investment, and it is important to protect it with the right homeowners insurance policy. Our knowledgeable agency can help you obtain the homeowners insurance coverage you need at the best available price.
Rochester Insurance Quotes