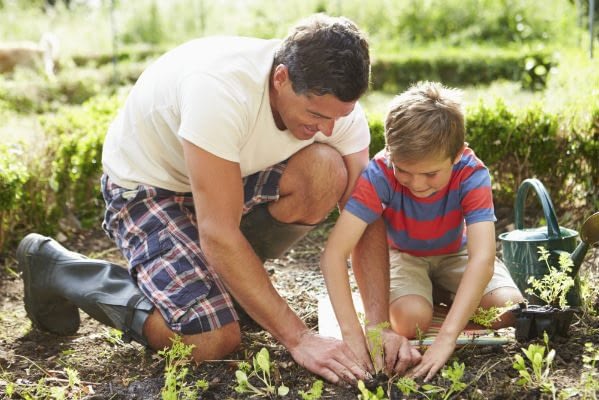 When landscaped, the outdoor space at your home will enhance the beauty, livability, and the value of the entire property. We've put together some landscaping ideas to keep your yard looking beautiful with minimum effort and cost. We chose some of the best ideas out there for homeowners who want to upgrade their yards without breaking the bank.
Our Climate: Choosing the Right Plants
Every climate is great for certain types of plants, and you need to ensure that you purchase the right ones. It's important that you put in flowers, bushes, and ground cover that will flourish in your microclimate and won't require too much care. Talk to your local nursery and they can advise you about the plants that will grow the best in your area.
Perennials: A Great Choice
Perennials are hardy and come back every year with very little work. The base of your new landscaping can include several types of perennial flowers that provide a background for the annuals you put in during the spring. There are so many beautiful perennials to choose, and everyone has their favorites. Choose a color scheme that appeals to you, and each year you can add different splashes of color by adding annuals.
Create a Berm
A berm is a raised area in your yard, often placed in the front corner or corners. They're easy to create, as all you need to do is add top soil and mulch and then plant a variety of ground cover plants and bushes. A berm adds appeal to your yard and has the advantage of blocking sound and sight from the street. Go to your local nursery and talk to them. They know everything about plants and can advise you if you need help deciding what plants to choose. This is one of the cheapest and simplest ways to improve your yard.
Stone Pathways
A stone pathway, even in a small yard, can make the area look more beautiful. Build a small berm on either side of the pathway and load it with ground cover, flowers, and bushes. This creates a vision of space, and lush foliage has the added benefit of making a smaller yard appear larger.
A Stair Step Garden
Having flower pots that spill out a rainbow of lush color placed on each stair of your home is an easy and fast way to improve the overall appeal of your home. Choose pots that have a base to collect water, particularly if you have wooden stairs so you don't damage them. Water the plants as directed and watch them grow!
Build a Wall and Put in a Raised Bed
Choose the stone treatments that appeal to you, such as flagstones. You can stack the stones yourself (don't buy large ones – they are heavy!), and there is no need to call a stonemason to create a wall that looks amazing. Once it is in place at about 12 inches high, fill it to the brim with a mixture of soil, compost, or fertilizer. You now have a beautiful raised bed, and you can plant perennials and seasonal flowers to enjoy throughout the season. These walls look great outside the front of the house and make your home look more attractive and appealing to visitors.
While you are planting your garden and getting into all things "spring," it's a great time to get a review of your homeowners insurance policy and make sure it is up to date. Your home is likely your biggest investment, and protecting that investment couldn't be more important. Find out how much coverage you have, if it can be increased, or whether there is more coverage available at the same or lower price.
Our local agency can help you with a full policy review. There are frequently good deals when you bundle your insurances, and special offers that pop up that could really make a difference for you. We are happy to review the homeowners policy you have in place and explain exactly what you have, as well as what you may need. Meanwhile, enjoy the spring and follow these landscaping tips. Not only will your home be more beautiful, it can attract a buyer more quickly if you ever plan to sell.
Rochester Insurance Quotes