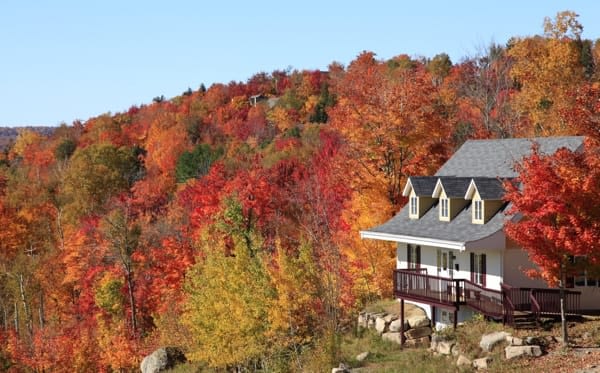 Blazing sun, sub-zero temperatures, or any extreme weather conditions can wreak havoc on your home, but seasonal maintenance can go a long way toward preventing catastrophe. The following are home maintenance checklists for winter, spring, summer, and fall.
Winter Home Maintenance
Vacuum HVAC registers to remove dust and debris.
Flush out water heater to remove built-up sediment.
Clean refrigerator coils.
Check caulking around showers and tubs and replace if needed.
Test smoke and carbon monoxide detectors and replace the batteries if necessary, and every three months no matter the season.
Check the crawlspace for animals, foreign matter, or water damage.
Change furnace filters at least every three months.
Schedule an AC service call before the first hot day of the year.
Replace batteries in flashlights.
Spring Home Maintenance
Clean windows and repair or replace any damaged screens.
Vacuum the lint from your clothes dryer hose.
Check gutters for clogs and clean out any debris. Make sure downspouts are secure.
Check for cracks in concrete or asphalt walkways and repair or reseal them in warm weather.
Check that the ground around the foundation is sloping away from the house and re-grade if necessary.
If you have a sump pump, test it to ensure it is working properly.
Test your attic fan, if you have one, before summer arrives.
Make sure trees around the house are not threatening wires or power lines.
Check the roof for holes, crumbling, blistering, or rotting, and repair or replace as needed.
Test Ground Fault Circuit Interrupter (GFCI) outlets by plugging in a lamp then hitting the test and reset buttons to see if the lamp turns off and on.
Summer Home Maintenance
Clean and check decks, patios, and porches for damaged stairs, sagging roofs, or peeling paint. Make sure supports are not weakened, rotted, or broken.
Power wash the siding on your home.
Test and lubricate garage doors.
Check your dishwasher for leaks under or around it. Make sure the washer arm is not stuck and the drain hose arcs up to prevent backwash.
Remove shower heads and clean out any sediment buildup.
Schedule a service call for your furnace before the first cold day of autumn.
Replace batteries in flashlights.
Fall Home Maintenance
Check windows and seals for leaks and reseal if necessary.
Shut off hose bibs.
Clean out gutters.
Check the eaves for stains (signs of a leak)
Clean out overgrown vegetation and cover or bring in outdoor furniture, fire pits, and grills.
Make sure your indoor fireplace is ready for winter.
Check that ceiling fans are firmly secured to the ceiling.
Change furnace filters.
Test carbon monoxide and smoke detectors and change batteries as needed.
Check Your Homeowners Insurance Coverage
This is an important step to protect your home through all seasons. Our friendly agents can review your home insurance policy with you to help ensure you have the coverage you need at the best available rates.
Rochester Insurance Quotes