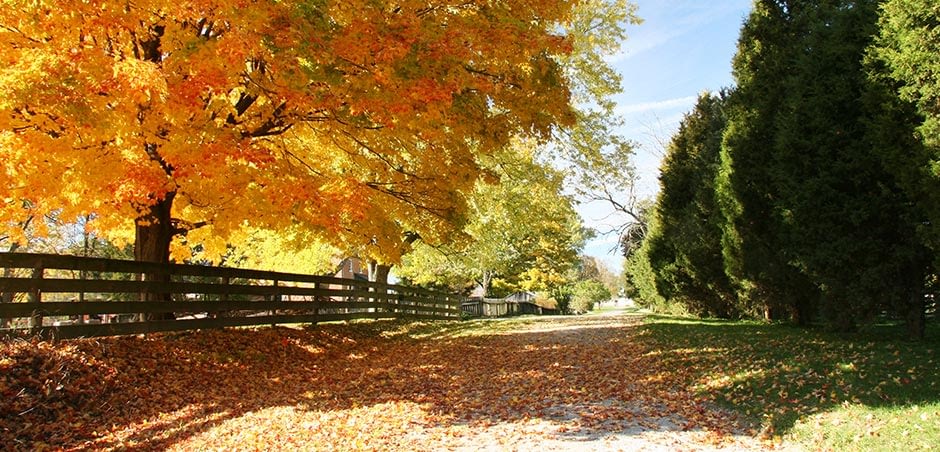 Can you remember the last time you drove for no other reason than to explore? Or took the long way home on purpose? It's a freeing experience—to drive down the interstate, onto rural routes, and through the tree-lined backroads of the countryside.
Thankfully, Ohio is home to many roads and byways that are perfect for your next scenic drive; you may even want to find and explore some diversions along the way! To make your life easier, we have built a list of our top five scenic drives in Ohio. It's time to pack some snacks, queue your road trip playlist and get lost in the natural beauty of your surroundings.
For a safe and stress-free drive, make sure you have the right auto insurance to protect the vehicle that makes it all possible.
Amish Country Byway
Known for its blend of cultural and scenery, the Amish Country Byway was named a National Scenic Byway by the United States Secretary of Transportation in 2002. The Byway begins just past Sugarcreek/Shanesville and spans 72 miles throughout Holmes County.
Along these roadways, you will be treated to the Amish experience: red barns, trotting buggies, farmers pulling wagons of hay, and of course vast farmland. The Amish lifestyle of traditional simplicity is a great escape from the pace of modern life.
To complement the beautiful scenery, the roads have numerous attractions along the way. While you are in the eastern portion of Holmes County, don't miss a visit to the Victorian House or Holmes County Historical Society. Be sure to also stop by Berlin, the ultimate destination for unique shops, boutiques and old fashion restaurants.
Hocking Hills Scenic Byway
Lined with waterfalls and wildflowers, the Hocking Hills Scenic Byway twists and turns through Hocking County. This 26.4-mile drive connects all six Hocking Hills State Park sites and is great for a quick cruise or gradual journey with stops and detours. If you love rugged cliffs, rocky caves and thunderous waterfalls, you will have your eyes peeled to the window the entire drive.
The Hocking Hill Scenic Byway begins in Rockbridge at the intersection of state Route 374 and U.S 33, and ends in Logan. Along this route, you will find some of Ohio's most popular landmarks: Cantwell Cliffs, Rock House, Cedar Falls, Ash Cave and more!
Lake Erie Coastal Highway
Lake Erie Coastal Highway boasts a 293-mile route that makes it the second longest byway in Ohio. From Toledo to Conneaut, this byway weaves along the scenic shore of Lake Erie and passes through beaches, lighthouses, preserves, villages, big cities, islands and historical sites.
In 2004, Lake Erie Coastal Highway was also designated a National Scenic Byway. The title is fitting as there is something for everyone here. You will find locations to camp, boat, birdwatch, tour, eat and explore Lake Erie's 12,000 years of history. There is even a Lake Erie Costal Ohio Trail mobile app to help you make the best of your visit.
Ashtabula County Covered Bridge Byway
If you love bridges, you are in for a treat. In the upper northeast corner of Ohio, you will find the nostalgic and famous covered bridges of Ashtabula County. Ashtabula County Covered Bridge Byway (also known as the Ashtabula County Covered Bridge Tour) is home to 19 of these unique structures. Experience stunning feats of engineering and the simple beauty of the area's open hills and vineyards.
The drive is one of kind, offering self-guided tours marked by signs throughout the vicinity. This tour includes America's shortest and longest covered bridges: the West Liberty Covered Bridge (18 feet long) and the Smolen-Gulf Covered Bridge (613 feet long).
These bridges don't go uncelebrated. Every year during the second week of October, Ashtabula promotes the preservation and maintenance of their bridges through the Ashtabula County Covered Bridge Festival. This is a family-friendly event that includes crafts, entertainment, food, contests and more!
Ohio Valley Scenic Byway
Lower Valley Pike Scenic Byway is packed with culture, history and recreation, all in a short but sweet 11-mile drive. The Byway is in Clark County near the Mad River and National Road. It winds through a beautiful array of woodlands, farms and cliffs, as well as some of the state's oldest buildings.
One of the byway's most popular stops is George Rogers Clark Park, the site of one of the last Revolutionary War battles. The county itself was named after General Clark who led his Kentucky soldiers to victory.
Looking for more adventure? You will also love fishing at the Mad River or exploring popular tourist attractions like the Davidson Interpretive Center and the Estel Wenrick Wetlands.
Have fun and stay safe
Now that you have the inside scoop, you are ready to explore Ohio's vibrant charm. Some of the best memories are made on the road and we don't want you to miss a second of it. See how auto insurance from ERIE can help ensure your leisurely drives continue by protecting you and your loved ones as you go the distance.
Rochester Insurance Quotes